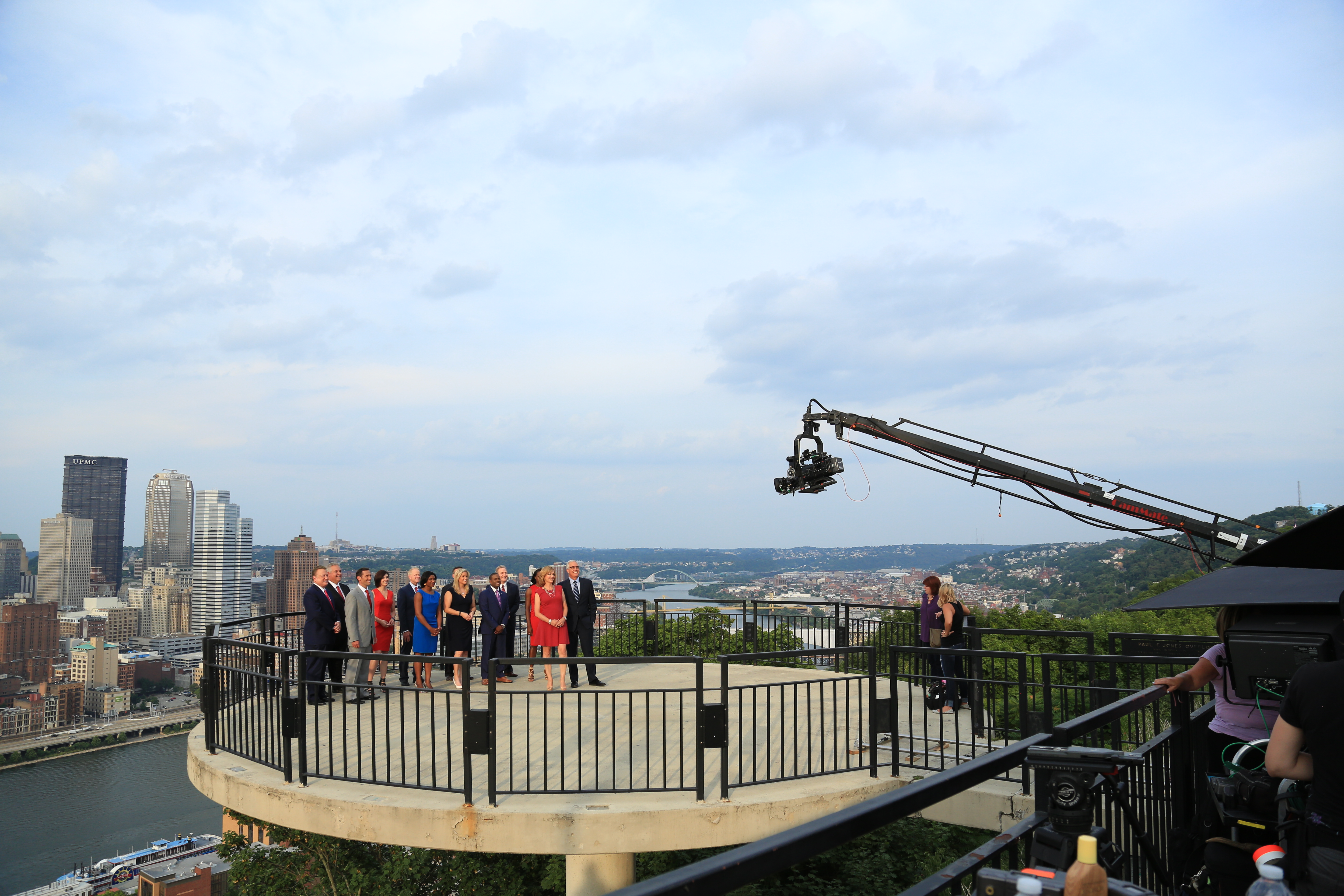 August 25, 2016 — When you're producing a promo to debut during the Opening Ceremonies of the 2016 Summer Olympics in Rio, one of the most-watched nights of television of the year, you have to go for the gold.
That's exactly what our team at Studio 11 Pittsburgh did for the "Our Town" promo video.
For six days in July, Studio 11 joined the WPXI Promotions team to shoot on location all around our beautiful city of Pittsburgh. Our vision was to create a spot that was constantly moving, that showcased our city's unique people and iconic locations and that made residents feel proud.
The Details of the Shoot
To accomplish this, our team brought in a custom car rig, and utilized both the Panasonic V35 and 3700 cameras in the Studio 11 arsenal. Many of the shots from the promo were not staged and are real moments captured as we drove along the city streets, through neighborhoods including the North Shore, Oakland and of course Mt. Washington.
In the promo, we even "crashed" a real wedding with a small crew of five and a Steadicam. The happy couple was kind enough to let us wait outside the church as they greeted their family and friends. This shot was perfect for the promo.
We believed that Mt. Washington was the clear location to feature WPXI's anchor team for the promo end shot. This view is unmatched in Pittsburgh, and arguably anywhere in the United States. In order to get the shot, we brought in a CamMate Crane and paired it with the V35 and a Canon 17-120 PL mount servo lens. Thanks to a stunning golden hour and the miracle of getting 10+ news and sports anchors together at one time in one place, we think this shot was the perfect way to end the promo.
The song "This Town" by the rock jam band O.A.R ended up being the perfect track for the commercial. Never underestimate the power of a great music track to say more than you can with a script.
This special project took weeks of planning, and many hours of shooting, editing and graphic work. We threw ourselves into this project, and would do the same for any other. No job is too big for Studio 11. If you have a vision, we will work tirelessly to make it come to life. Contact us today to get started.