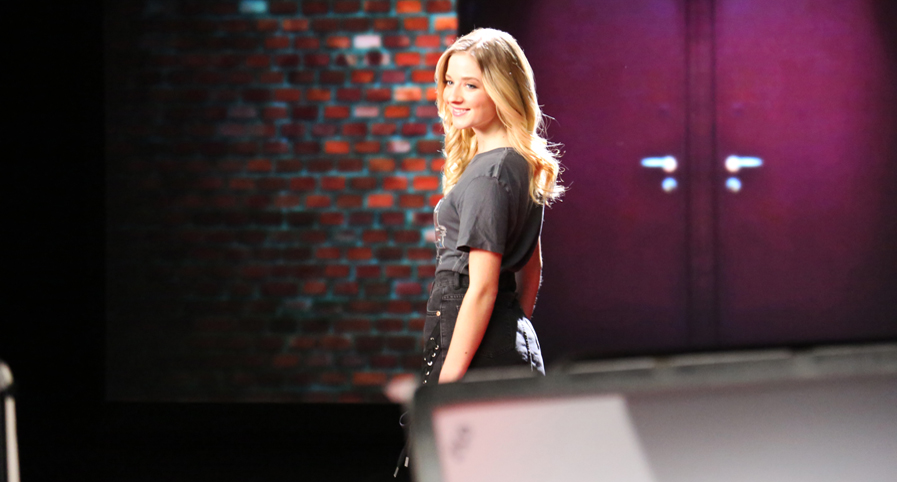 Jackie Evancho recently released pop music video "Pedestal" that Studio 11 Pittsburgh produced.
The Pittsburgh native is known by many as the young opera star who got her start on "America's Got Talent." Now 17 with a ton of impressive work under her belt, Evancho is excited to release a music video about breaking free of her childhood image.
"The minute our creative team heard the song, we thought 'music box.' We imagined Jackie standing on one with moody lighting and beautiful dancers surrounding her," said producer Carly Boucher.
Production took place over two days in March 2017 in our 3,500-sqaure-foot studio. Everything in the studio was turned black, even our 900-square-foot white cyc. Black marley covered the floor. It was a blank slate for several scenes.
Small sets were created for the makeup, paparazzi, backstage and talk show scenes, each with their own detailed lighting plan. Directed by Karen Lah, several cameras, including one on a dolly and one on a jib, provided unique angles and movement.
The main "Pedestal" scene features Evancho singing on a music box wearing an ethereal blue dress with contemporary dancers moving around her. Dancers Megan Sullivan, Alaina Johnston, Isabella Febbraro, Julia Paslawski and Anna Schatzel were choreographed by Studio 19 Dance Complex owner Tammy Croftcheck.
"Pedestal" was one of the first songs Evancho wrote and is on her new album "Two Hearts."