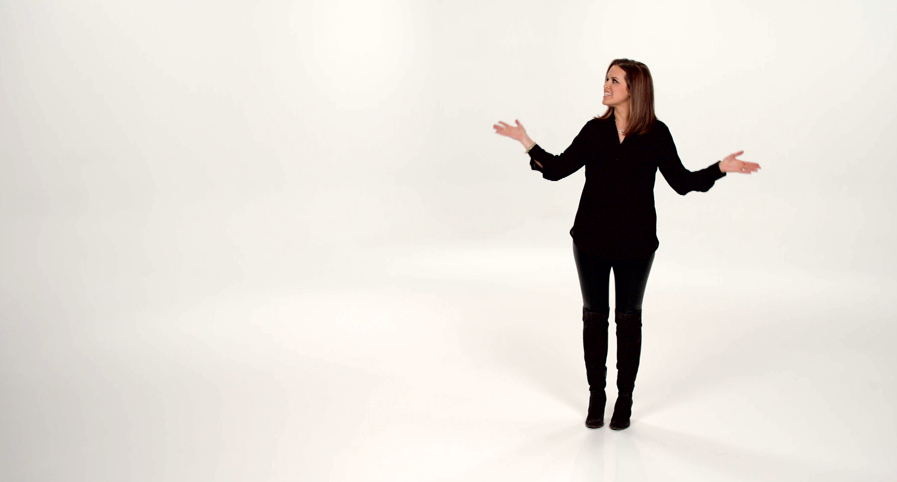 Now we've all seen the beautiful Apple commercials. Every video that Apple releases feels fresh, new and clean.
The simple white background creates a very polished look that demands people watch the person on camera and listen to what they are saying while giving you a strong feeling of professionalism and a young energetic emotion.
For that same reason, children tend to look amazing on this simple background, and it's also great for corporate videos aiming to achieve a polished professional look.
This set makes a perfect background for photo shoots as well. Need shots of large products or groups?
The white cyc keeps it easy and elegant.
But what is a white cyc exactly?
Well, it's really just a white wall that has a ton of light thrown onto it.
This is done so if you need to get a full body shot of a person or even a car, you are not going to be distracted by seeing the shadows and hard corners that might ruin the effect of that beautiful clean white infinity look that you are trying to achieve.
Studio 11 Pittsburgh's professional studio has a 900 square foot set that sits under a 17' high lighting grid and is backed by a 180 degree infinity cyc that is pre-lit by four 6k-equivalent LED Space Lights. There is no cyc wall like this in Pittsburgh!
Renting a big white room can be a bit pricey but at Studio 11 Pittsburgh, crafting your own white cyclorama or infinity wall look can be done on any budget with a little video and lighting know how from our Pittsburgh production team.
To learn more on how to make your videos stand out, contact Studio 11 Pittsburgh today at 412-237-1211412-237-1211 or Studio11@wpxi.com!